The Viking Shield Regatta takes place each year before the start of the CARA summer Regatta Season.
The Viking Shield is a trophy awarded to the fastest coastal pair in an annual competition between the Kent Rowing clubs. The winning club also have the honour of hosting the Regatta the following year.
The event has a special significance for Herne Bay Rowing Club as Ryan Hosking and Darren Ingram won the shield 10 times in a row which is undoubtably a record and in recognition of this fact Herne Bay named a pair boat after them in 2010.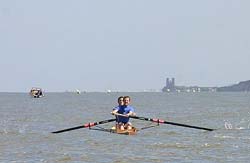 Their run came to an end in 2010 when Ashley Epps and Andy Cooper beat Ryan and Darren but the following year at the 2011 event Folkestone were the fastest Kent crew so the Regatta was due to be held there in 2012
However due to bad weather the Regatta was cancelled and the trophy awarded to the fastest Kent pair at Folkestone Regatta – Deal – who will host the 2013 Viking Shield Regatta.
According to the inscription on it, The shield was originally presented by Emil Olskov-Hansen and Niels Ventegodt of the "Viking" Rowing Club, Langturs, Denmark (NB The spelling of some of these names may be suspect).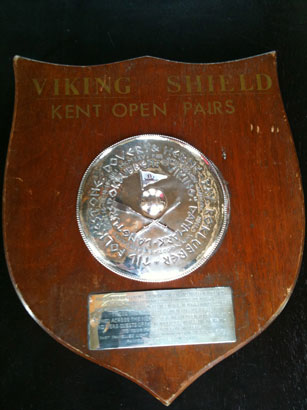 The inscription continues "These two Danish Oarsmen rowed across the North Sea in an open Yole pair boat and were guests of the Kent Rowing clubs on the 16th, 17th, 18th and 19th July 1925, while on their way to tour the European waters. They travelled light with minimum camping equipment packed under the Bow canvas of their boat."
Having looked into this further, I believe the pair were members of Odense Rowing Club in Denmark. It seems that Niels Ventegodt was keen on long distance rowing, he had founded the Viking Long distance Rowing Club in 1916 and had ambitions of rowing all the way to Bombay in India by rotating the crew but that effort ended off the coast of Spain when the boat "Viking" was wrecked. For some early parts of the journey, before crossing the Channel, Niels Ventegodt"s crew consisted of his wife "Edel" and his dog "Buster".
More information (in Danish) on the Odense Rowing Club Website
At the Viiking Shield Regatta – as well as the Senior pairs race there is a full programme of coastal rowing events which are not restricted to Kent coastal clubs (non-Kent clubs can also enter the pairs race but if they win, they don"t get the shield!). Entries also come from the Sussex CARA clubs, some Kent river rowing clubs and coastal crews from further away.