The Viking Shield Regatta takes place each year before the start of the CARA summer Regatta Season.
The Viking Shield is a trophy awarded to the fastest coastal pair in an annual competition between the Kent Rowing clubs. The winning club also have the honour of hosting the Regatta the following year.
The event has a special significance for Herne Bay Rowing Club as Ryan Hosking and Darren Ingram won the shield 10 times in a row which is undoubtably a record and in recognition of this fact Herne Bay named a pair boat after them in 2010.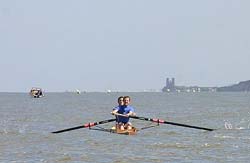 Their run came to an end in 2010 when Ashley Epps and Andy Cooper beat Ryan and Darren but the following year at the 2011 event Folkestone were the fastest Kent crew so the Regatta was due to be held there in 2012
However due to bad weather the Regatta was cancelled and the trophy awarded to the fastest Kent pair at Folkestone Regatta – Deal – who will host the 2013 Viking Shield Regatta.